BVLGARI IL CIOCCOLATO – San Valentino 2017 Special Edition Chocolate Gems "Lui e Lei"
To celebrate Valentine's Day, Bulgari IL CIOCCOLATO unveils the "Lui e Lei (For him and for her in Italian)" special-edition chocolates, presented in the brand's signature gift box.
In a tribute to its spirit animal, Bulgari introduces the "Lui e Lei" chocolate gems which are decorated with the new SERPENTI motif. As one of the icons of Bulgari, this new design ensnares the bold nature of the snake by focusing on the power of the eyes and penetrating stare of the snake. Shining in multi-faceted expressions of seduction, wisdom and vitality, the SERPENTI motif implies a captivating appeal, as the hypnotic, almond-shaped eyes of a snake – or those of a beautiful woman – can hold a power as incomparable as it can be unconquerable. The temptation alluded to in a gaze may change the very course of history; every love story begins with that very first look.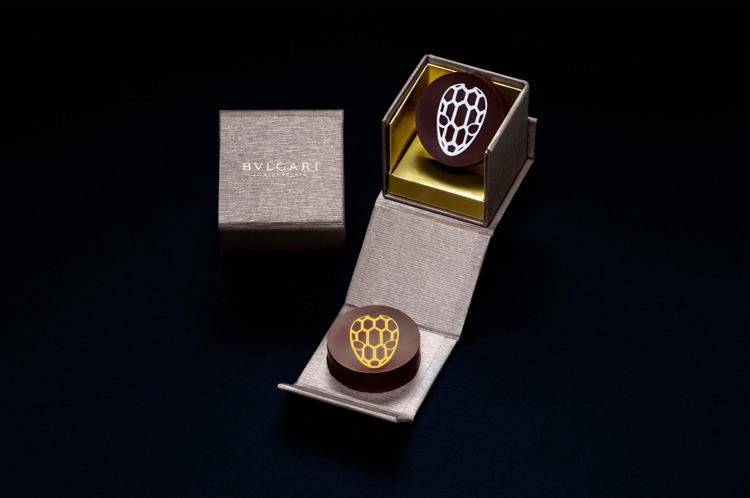 The chocolates are made only with exclusive raw chocolate of prestigious Criollo cacao beans. (It is called raw because the entire process for the related production is below 40 degrees Celsius in order to preserve the organoleptic richness and all the important nutrients.)
Using the finest ingredients imported from Italy, Bulgari's chocolate gems are carefully hand-crafted with traditional techniques by skilled maître chocolatier in the chocolate laboratory located in Bulgari Tower, Ginza, and Tokyo. These air-flown artful delicacies are luxurious treats for both the eyes and palates of visitors.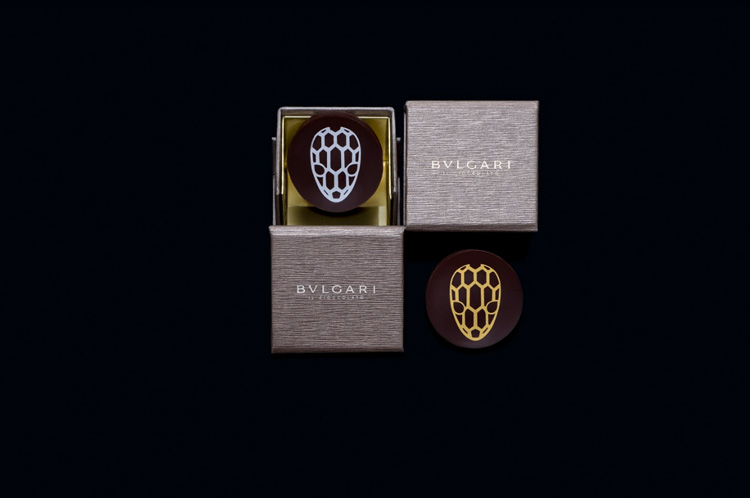 "Lui (For him)": Bergamot peel gianduja ganache with bitter chocolate.
"Lei (For her)": Pistachio from Italy and sambuco flower ganache with bitter chocolate.
Available only at Bulgari's chocolate counter at the Harbour City Chocolate Trail.
I Dolci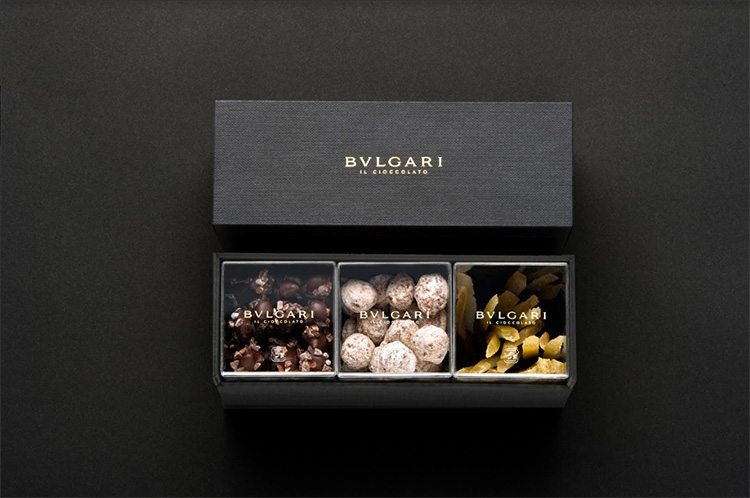 To savour the romantic moments, Bulgari IL CIOCCOLATO presents the "I Dolci" chocolate set – Italian sweet delicacies with ingredients carefully selected by our chocolatier and combined with the finest chocolate.
Lemon Peel: Glazed Italian lemon peel with bitter chocolate
Hazelnut: Caramelised Italian hazelnut, milk chocolate with cinnamon sugar
Almond: Caramelised Italian almond and bitter chocolate with cocoa powder
Available only at Bulgari's chocolate counter at the Harbour City Chocolate Trail。
"Lui e Lei" Chocolate Gems: HK$290 per box
"I Dolci" Chocolate Gems: HK$350 per box
Learn more at http://www.bulgari.com/en-jp/